Coastal Moonwalks Employment Opportunities
We Love What We Do & We Are Hiring!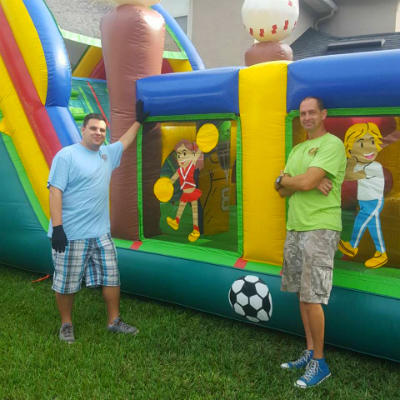 Coastal Moonwalks offers all of our employees great pay and flexible schedules. We seek clean cut, well spoken, honest, dependable, & hard working people to help with deliveries and to maintain our equipment. Delivery Applicants must be available to make deliveries on the weekends and some weekdays. Warehouse & Inflatable Cleaner Applicants must be available Monday-Friday. Delivery Driver candidates must have a clean driving record. Good References are required. Pay average is $18-20 per hour for Delivery Drivers and $15 per hour for Assistants & Cleaners. Weekly pay checks. Possible pay increases after 90 day performance evaluation and annually thereafter. This is a permanent long-term job with potential to be full-time if your schedule allows it. Potential to make several hundred dollars a week/weekend. We offer flexible schedules and vehicle/fuel reimbursement for Delivery Drivers who use their own delivery vehicle. Benefits include Great Pay, Flexible Schedules, & Free Quarterly Bounce House Rentals, and paid vacation after a year employment! Equal oppurtunity Employer.


Now Hiring for:
Starting Pay is $15 per hour using our truck or $18 per hour + fuel/vehicle reimbursement using your truck. Average $100-$200 per day.
Pay raise after a 90 day employment evaluation.
Must be available on Weekends. Higher consideration if you are also available on weekdays.
Must have good driving record.
Delivery Assistants
Pay starts at $15 per hour.
Must be available on Weekends & some Weekdays.
Warehouse & Equipment Maintenance
Pay starts at $15 per hour.
Must be available Monday-Friday.
If you are interested in applying for any position available, please fill out the application below. If you would also like to submit a resume in addition to the employment application below, please submit your resume to: jump@coastalmoonwalks.com . Once you have completed the application, click "submit" to complete and send the application. You will then receive a message confirming that your application was submitted successfully.