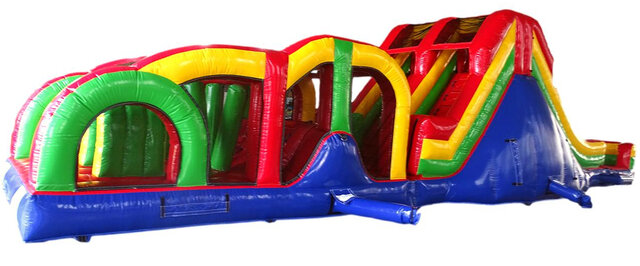 52ft Xtreme Water Course




$525.00

Sorry, This Product is Not Available

52ft Xtreme Obstacle Water Slide Course
52 Foot long Obstacle Course!
7 Elements of Challenging Fun!
16ft Tall Dual Lane Water Slide!
The brand new Xtreme inflatable obstacle course water slide is guaranteed to challenge and refresh everyone! It is 52 feet long of 7 different fun and challenging obstacles. It is packed with horizontal/vertical pop ups, logs, tunnels, chuts, walls, and slides. At the end of the course is a wall climb followed by a steep dual lane water slide with a large pool. This is perfect for setup anywhere including your backyard and great for all ages. Measures 52 feet long x 12 feet wide x 16 feet tall. Requires 2 15amp electrical circuits. Great for all ages and skill levels. Also available as the: Dry 52ft Extreme Obstacle Course
Secure your date!
Book Online Today!
Giant Obstacle Water Course

16ft Tall Double Lane Dry Water Slide!

Perfect for Backyards!

Professional On-Time Service!

Easy Reservations!

Reserve The Xtreme Obstacle Course Today!