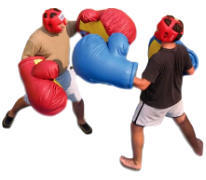 Boxing Gloves G509




$1.00

Sorry, This Product is Not Available

Giant Boxing Glove Rental
Are You Ready To Rumble?
Have A Real Barnburner!

SORRY, THIS PRODUCT IS NOT AVAILABLE AT THIS TIME.

Float like a butterfly and sting like a bee! Jump in the ring for a fun & safe round of boxing with a colleague, spouse, or friend. These oversized soft boxing gloves are great for lots of laughs! Great for team building and building camaraderie. Boxing Gloves Rental includes: 4 Over Sized Soft Boxing Gloves, & 2 Headgear. Recommended for adults & children over 12 years old. Also available:
Bouncy Boxing Ring w/ Gloves
Customer Pickup Option - CLICK HERE!
Secure your date!
Book Online Today!
4 Oversized Gloves w Headgear!

Safe Soft Padded Gloves!

Lots of Laughs & Fun For Everone!

Professional On-Time Service!

Easy Reservations!

Book The Boxing Gloves Now!