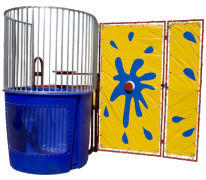 Splash Dunking Booth Dunk Tank G510
Actual Size: 7ft x 12ft wide x 8 ft tall
Outlets: water hose





Sorry, This Product is Not Available

Dunk Tank Rental
Get Ready For Some Fun!
Dunk Your Favorite...
Splash Dunk Tank! This 350 gallon dunking booth with a see thru window is great for fundraising, corporate picnics, school carvinals, backyard parties, festivals, virtually any type of celebration! Dunk your boss, teacher, principal, best friend, or coworker. You can dunk anyone OVER 18 years old for fun or dunk them to benefit a good cause. It's all in fun! Comes with 3 softballs for Dunking. Maximum capacity on dunk tank is one person weighing no more than 250 pounds. Easy setup options. This trailer mount tank easily fits in most locations.
For fenced area setups, the Dunk Tank requires at least a 6ft wide gate opening. Must be at least 18 years old to be dunked.


Secure your date today!
Book Online or Call 904-403-2388
350 Gallon Tank!

Great for Fundraisers!

Free Delivery w/in 10 miles!

Professional On-Time Service!

Easy Reservations!

Reserve The Dunk Booth Now!